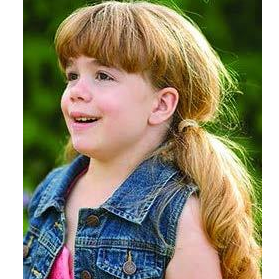 Livia Grace Hubert Memorial Scholarship
The Livia Grace Hubert Memorial Scholarship was established in memory of Livia (Liv) Grace Hubert, daughter of North Central College alum Jacob Hubert '98 and wife Kelly Hubert, who died from Sanfilippo Syndrome.
Livia Hubert left a deep impression on all those around her in her brief ten years of life. Everyone who knew Liv speaks to her ability to influence others to be better people by inspiring those she encountered to be grateful, live each moment to the fullest, and make a difference in the life of others and the greater world.
When Jake Hubert, Livia's father, was approached by fellow alumni Shane '95 and Dr. Lara Masullo '97 Ellison about establishing a scholarship in Livia's name at North Central College, Jake Hubert eagerly accepted. "For a girl who could hardly say a word, Liv made so many people want to live a better life and be a better person", said Hubert. "I told Shane that I think the best recipients to look for are people who've had a positive impact on others and their community and wanted to make a positive change. That's the kind of person who I would love to honor with Liv's scholarship."