Abel Sanchez
"Before transferring to North Central, Abel Sanchez pursued a degree in aviation. He discovered a passion for education and found that North Central had the right stuff.
'I decided to become an educator because it's the most rewarding and important profession of all. It was clear that North Central was the best choice for that career.'
To prepare for his career, Abel gained student-teaching experience at local high schools. He worked closely with professors to build an impressive résumé, which paid off with a job immediately after graduation. He returned to his hometown of Aurora to teach Spanish at West Aurora High School.
'I couldn't have asked for better faculty members at North Central; they were always willing to give career and life advice. I want to share what I've learned from my professors with my students.' "
In 2016-17, Abel Sanchez extended his desire to give back by creating the Alberto Buitrago Spanish Educator Scholarship to assist full-time North Central College students in pursuing a career as a high school Spanish teacher.
Excerpt from the North Central College Website
Adam Ciccone '13 Scholarship
Adam Ciccone '13, is a senior associate with RSM, formerly McGladrey, located in Chicago.
While a student at North Central, Adam was a member of the Men's Tennis team and was first in singles and doubles.
In 2014, he received a master's degree in Accounting from Northern Illinois University.
In 2016, Adam established the Adam Ciccone '13 Scholarship for students with junior or senior status, majoring in accounting.
African American Alumni Association of North Central College
The African American Alumni Association of North Central College is, as the name implies, an association of African-American alumni. It grew out of the desire of several black alumni that there should be some financial assistance to black students that comes specifically from black alumni.
Our effort began with a meeting with the Director of Multi-Cultural Affairs, Sally Davis-O'Shaunessy, in spring of 1991. After that meeting, the college sponsored a lunch at Homecoming in 1991, a lunch that was attended by a couple of alumni and by the brand new president Hal Wilde. After that Homecoming, we gathered contact information from college and from our personal records. Planning meetings followed and in 1995 AAAANCC was officially chartered as a not-for-profit corporation.
It is our intention to support black students who are dedicated in their academic pursuits and who also are active in the NCC college community and the African American community at large. Our first two African American Alumni Association Scholarships were awarded in 1998, for $250 each, and have steadily increased in amount. In 2017, the scholarship was renamed to AAAANCC Nicholas Hood Memorial Scholarship.
While we were setting up the scholarship, several alumni commented that often their shortage was "around the edges" – for books, calculators and other such items. It was then that we also established the AAAANCC Book Fund, a fund separate from the scholarship grants and administered by the college.
Anne T. Sherren Scholarship
Throughout her 35-year career at North Central College, Anne T. Sherren, Ph.D., directed dozens of student theses, supervised scores of off-campus internships and published scholarly work in various scientific journals. On campus, she's been known for her extraordinary dedication to students and ability to detect when they needed encouragement. "_She was always there to help_," recalls a former student, now a successful cardiologist.
The Dr. Anne T. Sherren Scholarship Fund was established by friends, faculty and former students of retired Dr. Anne T. Sherren in appreciation for her long and dedicated service to North Central College. The primary purpose of this fund is to provide scholarship assistance for full-time junior or senior chemistry or biochemistry majors at North Central College.
Bill Shatzer and Suzanne Shatzer Doerge Scholarship
Bill Shatzer '42 was a four-sport athlete, receiving varsity letters in football (three), baseball (three), basketball (three) and track (two). A "triple-threat" in football, the quarterback/running back/punter could do it all and was honored as a three-time all-conference performer, two-time Team MVP and National Association of Intercollegiate Athletics "Little All-American".
After signing to play football with the Detroit Lions, Shatzer was called to active duty in August during World War II and, while in training, played for the Naval Pre-Flight School Seahawks. On a team that included may All-Americans and professional players, he was the leading ground gainer and regarded as the greatest running back of that time.
Shatzer went oversees in April 1944. A month later, he was declared missing-in-action while on patrol from a base on the Aleutian Islands.
In October 2001, a bronze sculpture honoring Shatzer was installed on North Central College's Championship Plaza. This powerful memorial is a life-size replica of Shatzer in full football gear in the classic running pose. Situated near the football field that meant so much to him, the statue honors all those who made the ultimate sacrifice for their country.
In January 2004, Shatzer was inducted into the first North Central College Athletic Hall of Fame.
The Bill Shatzer and Suzanne Shatzer Doerge Scholarship was created by Bill Shatzer, Jr., in memory of his father, Bill, and mother, Suzanne.
Bockholdt Scholarship
Mr. Robert L. Bockholdt graduated in 1962 from North Central College with a B.A. in speech. He spent much of his time in speech forensics and was guided by former faculty member, Dr. Glen Reddick, and acquainted himself with all aspects of speech related activities.
Bob Bockholdt spent less time in theatre programs as he had to commute from Lockport, Illinois, where he cared for an ailing parent. Bob was a good student and an outgoing young man who worked very hard to balance the tasks of the student and those of a responsible adult to his infirm parent. His bequest to North Central College is a lasting example of his desire to help others by assisting further generations of students pursue their academic goals.
The purpose of the Bockholdt Scholarship is to assist students who are interested in the area of Communication Arts, with consideration will be given to students majoring or intending to major in the discipline or disciplines including Broadcasting and Forensics. Students awarded the scholarship will be expected to regularly participate in either Forensics and/or radio activities during the academic year and maintain a G.P.A. of 2.8.
Brad and Judy Brehm
Long-time Naperville residents, Brad and Judy Brehm created the Abby and Julia Kempf Scholarship in honor of their two granddaughters. Brad and Judy are active members within the Naperville community. In addition to their scholarship for education majors, the Brehms also generously support North Central College Cardinal Athletics and regularly attend North Central College football games.
Bryan J. Taylor
Bryan J. Taylor is a chemistry teacher at East Aurora High School and a proud member of the North Central College Class of 2013. Before attending North Central he grew up in a single parent household in the northern suburbs where he graduated from Prairie Ridge High School. It was here that he discovered his love of teaching high school, particularly chemistry.
Education was always important to his family, particularly his uncle (for whom this scholarship is named); he pushed Bryan to not only do his best, but also to find something that he loves to do. Bryan thanks his uncle for this each and every day.
Bryan created the Frank LeBeau Education Scholarship in order to help those who live and breathe education as much as Bryan does, as well as, help prepare students for the actualities of interviewing and applying for a job.
It is his single goal to help education students fulfill their dreams of becoming teachers in any way possible, much like his uncle did for him.
Burton and Marjorie Heinmiller Bauernfeind Memorial Scholarship
In 1934, a promising high school honor student by the name of Burton Bauernfeind received a letter from North Central College's President Rall informing him that he received a scholarship. This scholarship was in the amount of $100 and would be given in $25 dollar increments over the next four years. By 1938 Burton and his college sweetheart (and future wife), Marjorie Heinmiller '38 graduated from North Central College. Over the years, Burton enjoyed a successful career with Prudential Life Insurance that spanned almost 40 years, enabling him to provide a fulfilling life for his wife and their three children.
Seventy-four years after President Rall's letter was written, the Bauernfeind's son, John Bauernfeind '67, created the Burton and Marjorie Heinmiller Bauernfeind Memorial Scholarship in memory of his parents. The purpose of this scholarship is to offer financial assistance for two scholarship recipients with a business related major (first preference given to a student looking to pursue a career in the life insurance field or financial services field) and speech/theatre majors.
Chick-fil-A Entrepreneurial Leadership Scholarship
Mark Cabrera has been the owner and operator of the Chick-Fil-A restaurant located at the Fox Valley Center in Aurora, Illinois since 2014. Mark received his bachelor's degree in marketing from Palm Beach Atlantic University-West Palm Beach back in 2010. He is also a member of the Rotary Club of Naperville.
In 2016, Mark established the Chick-fil-A Entrepreneurial Leadership Scholarship for North Central College students. The purpose of this scholarship is to provide four individual scholarships in the amount of $3,000 each to be used for tuition, student fees, room and board and book expenses.
Class of 1951 Endowed Scholarship – In Memory of Phyllis J. Ebinger
This scholarship fund has been established by the Class of 1951, in memory of Phyllis J. Ebinger, who died suddenly of leukemia during her senior year.
This scholarship is a lasting memorial to Phyllis as she related to not only the senior class but also to the entire student body. She dedicated her years of education to the high ideals of her personal life and the college she loved, as she prepared for a career of serving others, sharing a positive, enthusiastic spirit in daily life.
Phyllis will always be remembered as a beautiful young woman whose personality and presence created a sense of hope and heartfelt love of life, as an adventure in learning and living one's best. Her memory challenged those who knew her to pursue excellence with courage, humility and grace.
This scholarship is, therefore, offered as a memorial from the entire Class of 1951, symbolic of many who searched for the most in knowledge, with a commitment to give of their best during their time at North Central College and to the world that awaited their leadership and loyalty.
The recipient to receive the Class of 1951 Endowed Scholarship in Memory of Phyllis J. Ebinger, will be a student with junior or senior status, committed to serving others through the field of education or teaching.
Class of 1965 Endowed Scholarship Fund
The Class of 1965 Endowed Scholarship Fund was established by members of the Class of 1965 Homecoming and Gift Committee to honor their 50th Reunion.
Class Reunion Scholarships are a North Central College tradition among alumni celebrating a milestone reunion.
Darrell and Gracie Berlin Scholarship
Dr. K. Darrell Berlin '55, a distinguished scientist, inventor and author, is the first Regents Professor named at Oklahoma State University and a special consultant to the National Institutes of Health.
After graduating from North Central College, Darrell attended the University of Illinois and earned a Ph.D. in 1958. He also worked as a post doctoral fellow at the University of Florida from 1958-1960. Over the years, Darrell received numerous honors and awards for his teaching and outstanding research accomplishments. He is an inventor with 27 patents and has written a textbook. His research group has published more than 300 papers in technical journals, and he is on the editorial boards of two international chemistry journals. In 2010, Dr. Berlin received the North Central College Outstanding Alumni Award. In 2011, Dr. Berlin returned to his alma mater and was a keynote speaker at the 14th annual Rall Symposium for Undergraduate Research.
In recognition of the impact Dr. Koten and Professor Schap had on his career, Darrell and his wife, Gracie, established the Darrell and Gracie Berlin Scholarship for North Central College chemistry and biochemistry majors.
First consideration is to be given to a chemistry major with second consideration given to a biochemistry major.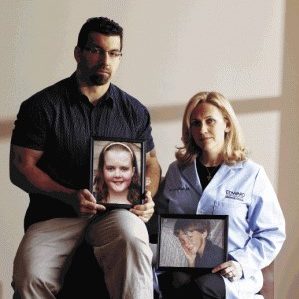 Dr. Lara Ellison '97 and Mr. Shane Ellison '95
The Max Lacewell and Brianna Sharp Memorial Scholarship was established by alumni couple, Dr. Lara Ellison '97 and Mr. Shane Ellison '95 to honor the memories of Max Lacewell and Brianna Sharp, who both died much too young of a rare brain tumor – diffuse intrinsic pontine glioma. Both children were patients of Dr. Ellison and became close friends with each other through their shared fate. They displayed unbelievable courage in their daily lives, but especially in the nine months after their illness was diagnosed in October 2008 to the time of their deaths in July 2009.
The Ellisons, inspired by Max and Brianna, have established this scholarship as a living testament to the compassion, courage and generosity of spirit that both young people possessed. The primary goal of this scholarship is to provide assistance for a full-time student in the sciences who plans to pursue a career in medicine and/or medical research with special consideration given to a student who has an interest in a career in cancer research, oncology and/or a related field committed to defeating this horrible disease. This type of research/study is important to the Ellisons because the hope is that one day other children will not have to suffer the same fate.
Dunham Fund Scholarship
The objectives that guide the Dunham Fund are forever linked with Fund Founder John C. Dunham and his family. It was Mr. Dunham, after all, who determined that the Fund he created in 1996 should "be dedicated through wise gifting to making the world a more comfortable, safer place for mankind to live and prosper." And it was John Dunham, speaking as the entrepreneur and businessman that he was, who visualized the Fund "as a self-sustaining money maker, as well as a gifting organization." A history of Mr. Dunham and his family is synonymous with the history of Equipto, the Aurora company founded by Mr. Dunham's father, Thomas M. Dunham, in 1907.
John, born in New Jersey but educated at West Aurora High School, and North Central and Babson colleges, followed his father into the family business, often sweeping floors and running errands as a youngster. In 1931, John joined the company, and he and his father achieved great success designing and selling their steel shelving equipment. John eventually served as president and chairman of the company, retiring as chairman of the board in 1994.
Widely known and highly respected as a champion of enterprise and education, his philanthropic passions, Mr. Dunham conceived the philanthropic direction that in 1996 led to the formation of the Dunham Fund. During his lifetime, Mr. Dunham was a strong supporter of several Aurora-area educational institutions, where he inspired students to achieve excellence in scholarship, character development, work ethic and commitment to community service.
The Dunham legacy continues with the Dunham Fund, which today is the largest private foundation in the Aurora area.
Dwight Lewis Legacy Scholarship
The Dwight Lewis Legacy Scholarship is in honor and memory of Dwight Lewis. Dwight Lewis is an alumnus of North Central College class of 1965. His success in life is rooted in his motto "I am a product of education. I believe in education."
Dwight Lewis was a student athlete that majored in chemistry and mathematics and received his bachelor degree in mathematics. To this end, he has established a scholarship to demonstrate his strong belief in education and the support of students in Science, Technology, Engineering, and Mathematics (STEM) related programs.
Etheldred L. Schafer Pre-Med Scholarship
After graduating from North Central College in 1928, Dr. Etheldred Schafer began her career in medicine at the Norwegian American Hospital in Chicago as a medical technologist. She received her medical degree from the University of Illinois School of Medicine in 1943. She interned at Albany Hospital in Albany, New York from 1943-44, and was the chief resident in Pathology at the Western Reserve School of Medicine in Cleveland, Ohio, from 1945-47. Dr. Schafer then moved to Madison, Wisconsin in May 1947, to become a pathologist at Jackson Clinic and remained in that position until her retirement in 1969. From 1969-72, she was a pathologist on interim appointment at St. Mary's Hospital, Rhinelander, and St. Michael's, Steven's Point. In 1972, she became a consultant in cytology at the Jackson Clinic, a position she held until passing in 1983. She was active in both clinical medicine and research and published numerous reports of her investigations.
The Etheldred L. Schafer Pre-Medical Scholarship was established to honor the memory of Dr. Schafer. The purpose of the scholarship is to provide financial assistance to full-time students preparing for medical school.
Gary and Sharon Kovener
After receiving a Ph.D. in Physics, Gary Kovener began his career at Amoco Chemicals in 1974. That career encompassed modeling plastic fabrication processes, exploratory chemicals research, venture manager for integrated circuits polymers, and a business assignment in new products development. Gary retired from Amoco and joined Pritel laser company as international marketing director. In 2007 he formed GSK Consulting with a primary concentration on augmented vision devices for the military.
Sharon Kovener taught Business in high school retiring in 2002 after 34 years of teaching.
Gary and Sharon retain a commitment to training teachers to provide the scientists and leaders of tomorrow.
General Board of Higher Education and Ministry (GBHEM)
As the leadership development agency of The United Methodist Church, the General Board of Higher Education and Ministry's mission is preparing global leaders for a global church and the world. Every elder, deacon and licensed local pastor benefits from our training and candidacy programs. Many young adults find help in clarifying their vocation and God's call on their lives through our leadership and discernment programs.
Our Mission
The General Board of Higher Education and Ministry's mission is to lead and connect the educational and ministerial life of The United Methodist Church.
Our Vision
The General Board of Higher Education and Ministry will continue to transform the world through the power of education and ministry in the Methodist tradition. We will serve God and the worldwide Church in recruiting, nurturing, and educating lay and clergy leaders who seek wisdom and live ethically as God's peacemakers.
Scholarships
The General Board of Higher Education and Ministry awards numerous scholarships each year to students who make application and meet the criteria of the scholarship(s).
More information about the General Board of Higher Education and Ministry and about the many scholarships they award may be found by visiting their home page at http://www.gbhem.org.
For more information about the history of the Evangelical United Brethren Church, the Methodist Church, or The United Methodist Church, visit www.umc.org.
Hank Skoglund Scholarship for Humanities
The Hank Skoglund Scholarship Fund was established by members of the North Central College community to honor the memory of Hank Skoglund, Professor of Philosophy at North Central from 1966-1982.
The scholarship fund supports the study of Humanities – Philosophy, Religious Studies, History, Literature, and History of Ideas (minor) – through an annual student scholarship.
Harold Henning Scholarship
Dr. Harold (Hal) Henning was a dentist in Naperville for 39 years, however swimming was his passion.
Born in Lockport, New York in 1919, he came to Naperville in 1937, and was an All-American swimmer in the freestyle and the backstroke at North Central College.
From 1942-1945, he was in the Navy where he was an instructor in aquatics warfare. After the war, he was instrumental in the development of the Red Cross Swimming education program. He once swam on a world record-breaking 400 meter freestyle relay team for the Chicago Town Club and he served 12 years as a volunteer coach for North Central College.
He was manager and coach for the United States swimming teams that competed in Mexico, Guatemala and Japan and served as manager of the U.S. Olympic swimming team in Tokyo in 1964. He was chairman of the U.S. Olympic men's swimming committee from 1959-1965. He was also an official at several Olympiads and in the Pan American games. He was president of the International Amateur Swimming Federation from 1972-1976. At the time of his death in 1988, Dr. Henning was chairman of the foreign relations committee of the U.S. Olympic Committee.
He was also a member of the Naperville school boards from 1953-1959.
Harold Temple Endowed Scholarship
The Temple Endowed Scholarship was established by North Central College alumnus, Harold Temple '65 to recognize the dignity, equality and worth, among all students and of lesbian, gay, bisexual, transgender, queer, intersex or ally students in particular.
Jacquelyn Lewis Wentz
In 2003, Jacquelyn Lewis '63 Wentz established the Norman and Rose Lewis Endowed Scholarship to honor her parents. The purpose of this scholarship is to provide room and board to students wishing to live on campus in order to have a true college experience. Good academic standing and involvement in campus activities are criteria for this scholarship.
While a student, Ms. Wentz was an English and education major and participated in may campus activities. She was a member of the Education Club, the Religious Life Council, the Student Council, the YWCA, the Class Woman's Representative, the Special Events Committee and the Homecoming Committee.
Today, Ms. Wentz enjoys traveling with college friends. Over the years, these North Central friends have gathered in Puget Sound, Washington; Santa Fe, New Mexico; Fairfax, Virginia; Boston, Maine; San Francisco, California; Savannah, Georgia and Wilmington Island, Georgia. She was recently on campus celebrating her 50th college reunion with her classmates at the A. A. Smith House.
Jacquelyn Wentz lives in Salt Lake City, Utah and is the mother of two adult children, David and Julie.
Jeanene Yule Scholarship for Excellence in Teacher Education
Jeanene Yule was an associate professor of education and chair of the department at North Central College. She is remembered at the College and in area schools as a dynamic leader and educator who was committed to making North Central's education department the best that it could be.
As department chair, Dr. Yule provided strong leadership and set the stage for dramatic growth in education enrollments at North Central College. She opened new relationships with area school districts, developed a master of arts in education program, and espoused a philosophy which called for the blending of educational theory and practice in both programming and staffing.
Her outreach activities included developing a technology network involving some 50 school districts; creating College-school partnerships with several Naperville schools; establishing a Summer Graduate Institute; and significantly expanding the certification-only program. Jeanene Yule earned both B.A. and M.A. degrees from the University of Wisconsin and an Ed. D. from Loyola.
In her memory, North Central established the Jeanene Yule Scholarship for Excellence in Teacher Education.
Jeffrey Swallow
Jeffrey "Jeff" Swallow is a 1994 graduate of North Central College. He is a visionary corporate leader, North Central College Trustee and generous philanthropist.
After completing an associate's degree at Lincoln College in downstate Lincoln, Jeff Swallow received his bachelor's degree at North Central College and called crossing the stage at Commencement "one of my proudest moments." Jeff Swallow earned his M.B.A. from Northwestern University in 2001 and a Ph.D. from Benedictine University in organizational development in 2008. His research interests include issues of organization development and behavior and international management.
Currently president and chief executive officer of Magnetrol International Incorporated in Aurora, Jeff Swallow has spent his career in planning, implementation, administration, and management of growing and expanding manufacturing environments. The success of Magnetrol reflects his wise management and business acumen.
Jeff Swallow has a special interest in providing financial assistance to students obtaining their college degrees. "My mother, Judy Stevenson, always taught us that if you're in a position to give back to your community and to the things that bring you the most pleasure and to people in need, then 'give back till it hurts'_. She couldn't have been more right, or set a better example. All the pleasure is in the giving."
Jeff Swallow continues to support North Central College through his generous continued support of the Judy G. Stevenson Scholarship and the Harold Emery Meiley Scholarship. The Meiley-Swallow Hall is named in the family's honor and to commemorate the many ties between the family and the College.
Jeff Swallow became a charter member of North Central College's Board of Trustee Associates in 1997 and has served on the Board of Trustees since 2006. In 2014, Jeff Swallow was honored with an Outstanding Alumni Award from North Central College.
John W. Bean
John W. Bean was a student at North Central College in 1922 and in 1923. When John W. Bean passed away in the late 1980's, his estate designated funds to establish the John W. Bean Scholarship in memory of his attendance at North Central.
Since the inception of the John W. Bean Scholarship, the scholarship has been awarded to students who are dedicated to "giving back" to society and the college.
Each year the scholarship is awarded to a student, the selected Student Volunteer Coordinator for that year, who embodies an attitude of service to the community and to North Central College AND who has an established, consistent history of volunteerism.
Judy G. Stevenson
Judy Stevenson, North Central College Life Trustee, will be remembered for being a caring mother, a successful entrepreneur and business leader, a friend of the arts and a generous benefactor of North Central College and many other causes.
Judy Stevenson, of Oak Brook, grew up in Naperville a block from North Central's campus and studied music at Pfeiffer Hall as a youth. After graduating from Naperville Community High School in 1956, she married and moved to California, where she worked during the day and sang with the Robert Shaw Chorale at night. A couple years later, she and her husband came back to Naperville, where she raised her two children, Laurie Swallow and Jeff Swallow.
Ms. Stevenson started at _Magnetrol_—then called Schaub Engineering—as a bookkeeper in 1964. She became executive vice president in 1971, president in 1975 and bought the firm in 1978. Ms. Stevenson's Downers Grove-based company, Magnetrol International, achieved international success as an industry leader in the production of devices that control and measure the level and flow of liquids or dry bulk products.
Judy Stevenson has been recognized and honored by numerous charities through the years for her philanthropy and community involvement. North Central College presented her with an honorary Doctor of Fine Arts degree in 2009.
Ms. Stevenson's generosity helped fund the major renovation of Naperville's former Grace Evangelical Church at 31 S. Ellsworth Street into the Meiley-Swallow Hall, which features a theatre, art gallery and classrooms. Judy Stevenson also was instrumental in contributing toward the renovation of North College's Pfeiffer Hall and Old Main buildings and construction of the Wentz Concert Hall and Fine Arts Center that was dedicated in 2008. In 1984 she established a North Central scholarship, the Harold Emery Meiley Scholarship, in the name of her father, Harold Meiley, and in 1992, she established the Dr. C. Frederick Toenniges Professorship in honor of a North Central College music professor.
Judy Stevenson passed away in June 2010. In memory of their mother, the Swallow family set up the Magnetrol Judy G. Stevenson Scholarship to honor Judy Stevenson. The Magnetrol Judy G. Stevenson Scholarship was awarded to qualifying Lincoln College transfer students in their Junior year who continued to pursue their Bachelor's Degree at North Central College. In 2016, Lincoln College expanded its academic scope to be a four-year college, and so 2016-17 was the last year new transfer students from Lincoln College were eligible to receive this worthwhile scholarship. The Swallow Family continues to generously fund the other scholarships established by Judy Stevenson, namely the Judy G. Stevenson Scholarship and the Harold Emery Meiley Scholarship.
Lenert Family Scholarship for Business Majors
Richard and Mary Jo Lenert were the owners of Lenert Plumbing. A family owned business that was started by Richard's father in the 1930's. The Lenert's sold the business to two long-time employees in 1992. Richard and Mary Jo had four children – Pamela Lenert, North Central College alumna '76; Sandy Jo; Julie; and Shelly.
Richard Lenert served as president of Lenert Plumbing, president of DuPage Company PPHC Contractor's Association, was a retired trustee of the Plumbing and Pipefitters Union Local No. 514, member of the Presidents Club and past co-chairman for fundraising at North Central College, former member of the Naperville Rotary, K of C Council No. 1369 and Naperville Jaycees. He was a WWII veteran and a member of the Naperville American Legion Post No. 43. Richard passed away in 1992.
Mary Jo was also quite accomplished in the Naperville Community. She was born in Chicago and moved to Naperville as a child. While growing up in Naperville, Mary Jo became an accomplished horse woman. She attended St. Xavier University and majored in nursing. She was the first volunteer at the Chicago Erie Street Settlement House, had her real estate license, was vice president and president of Lenert Plumbing, and a trustee of North Central College for 20 years. She was philanthropic and volunteered for several charity organizations. Mary Jo passed away in 2003.
Pamela Lenert '76 was the only one of the Lenert children to graduate from North Central College. She majored in art, communications and English literature. In 2002, it was Pam who accompanied Mary Jo to North Central to make the final arrangements for the Lenert Family Scholarship for Business Majors, a fund that originated with her parents.
Lincoln V. & Hazel M. Stauffacher Domm Scholarship
The late Lincoln Domm was professor emeritus of anatomy at Loyola University's Stritch School of Medicine. A 1921 graduate of Northwestern College (now North Central College), he conducted extensive research on endocrines in the physiology of reproduction and he was a pioneer in the study of steroids. In 1970, North Central College awarded Lincoln with an Outstanding Alumnus Award and in 1979 granted him an honorary doctorate.
The late Hazel Stauffacher Domm was a member of the North Central College Class of 1924. She was active in civic affairs in Chicago for many years. She held offices at the University of Chicago Service League, Hyde Park Travel Club and Arche Club. She was also president of the Woman's Society of Hyde Park Baptist Church and trustee as well as chairperson of the Travel Group of University of Chicago and a member of the Golden Diners, a governmental nutritional program.
In establishing the Lincoln V. and Hazel M. Stauffacher Domm Scholarship Fund, members of the Domm family spoke of their special interest in North Central College and of their desire to encourage future generations of students in the studies of medical sciences, dentistry and nursing.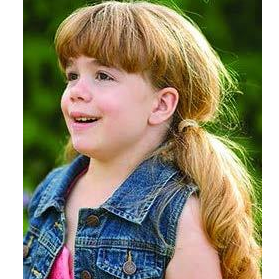 Livia Grace Hubert Memorial Scholarship
The Livia Grace Hubert Memorial Scholarship was established in memory of Livia (Liv) Grace Hubert, daughter of North Central College alum Jacob Hubert '98 and wife Kelly Hubert, who died from Sanfilippo Syndrome.
Livia Hubert left a deep impression on all those around her in her brief ten years of life. Everyone who knew Liv speaks to her ability to influence others to be better people by inspiring those she encountered to be grateful, live each moment to the fullest, and make a difference in the life of others and the greater world.
When Jake Hubert, Livia's father, was approached by fellow alumni Shane '95 and Dr. Lara Masullo '97 Ellison about establishing a scholarship in Livia's name at North Central College, Jake Hubert eagerly accepted. "For a girl who could hardly say a word, Liv made so many people want to live a better life and be a better person", said Hubert. "I told Shane that I think the best recipients to look for are people who've had a positive impact on others and their community and wanted to make a positive change. That's the kind of person who I would love to honor with Liv's scholarship."