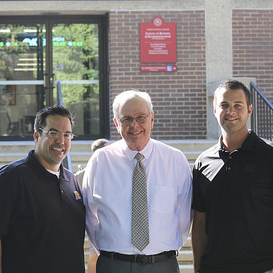 www.qualitylogoproducts.com
The act of paying it forward is not one Michael Wenger '04 and Bret Bonnet '05, founders of Quality Logo Products®, take lightly. For them, giving back is at the forefront of their business model. After all, it was through a grant from the Coleman Foundation that they got their start in the professional world, launching their company from a North Central College dorm room in 2003.
The two entrepreneurs recently created the Dr. Gary Ernst Entrepreneurial Scholarship Fund presented by www.qualitylogoproducts.com. Starting in fall 2019, the fund will provide a scholarship to a North Central College undergraduate majoring in entrepreneurship and small business management.
"This scholarship is a way for us to be mentors to people who are starting out just like we were," said Wenger. "It's not just financial assistance. We truly want to help students through networking, providing them with the experience, support and mentorship they need to be successful."
The scholarship pays tribute to Dr. Gary Ernst, professor of international business and marketing emeritus at North Central. Wenger and Bonnet credit Ernst's mentorship as a guiding force in their growth as entrepreneurs.
"Dr. Ernst's teaching style was engaging, and to learn from a professor who had so much field experience was inspiring," said Bonnet. "Every day he made a conscious effort to put his students first and I think that says a lot about who he is as a person. We were never a number in his classroom; it's that level of connection to a faculty member and mentor that got us where we are now."
Dr. Ernst retired in June 2011 after 25 years on the College's faculty. During his teaching career, he established North Central's Students In Free Enterprise (SIFE) chapter, the North Central Entrepreneurship Institute, the entrepreneurship major and the Self-Employment in the Arts Conference. He was named Coleman Foundation Professor of Entrepreneurship and Small Business in 1999, received three Dissinger Teacher of the Year Awards and was recognized with the Harold and Eva White First Citizen of the College Award in 2008.
"It's truly an honor to be recognized this way by Mike and Bret," said Dr. Ernst. "I am so happy to see them remember the College with their kind gift. What really makes North Central a distinctive institution is that interpersonal connection between faculty and students. I know the College will continue to harness those connections for years to come."