Volunteers in Action
Volunteers in Action is an organization designed to provide a framework to meet the needs of the community with a good pool of dedicated volunteers. Volunteers in Action provides volunteer services and fundraising expertise to numerous DuPage, Kane, Kendall and Will...

William Norris
William Norris '96, chief investment officer, CIBC Bank USA in Chicago, led the event, titled "Financial Fitness: Managing Through a Complex Environment," which was one of the first to be sponsored by the new Center for Financial Literacy at North Central College....
Wu-Kan, Shien-Woo and Robert Kung Family Endowed Scholarship
Shien-Woo Kung '26, Ph.D., was born in China and was a 72nd generation descendent of Confucius. In the early 1920's he came to North Central College on a missionary scholarship to study social science and subsequently earned a doctorate of commercial science from the...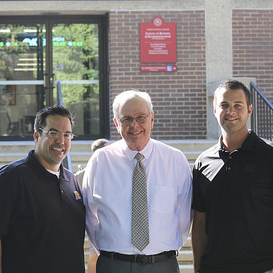 www.qualitylogoproducts.com
The act of paying it forward is not one Michael Wenger '04 and Bret Bonnet '05, founders of Quality Logo Products®, take lightly. For them, giving back is at the forefront of their business model. After all, it was through a grant from the Coleman Foundation that...